I've seen that a couple of my friends from Tally have done this quiz and posted their results on their blogs, so decided to check it out. I know, I know, a little childish, but it was just for fun. Well... the result is....
Cinderella
I found this cute and interesting because everyone always tells me I must have so much patience to be able to put up with my husband Michael! (Just Kidding, I love you honey!) But, I think I learned a lot of patience from growing up in a large family and being the 7th child of 9 children. So, my verdict is that it was a pretty cute quiz, but it's not going to tell you the inner workings of your personality or something, it was just cute and fun, and I can't complain that I can now compare myself to Cinderella. I clean up after others all day, (I am a nanny) I come home and slave away in the kitchen for hours, (okay, I cook for like 30 minutes and I get to enjoy what I eat) but at least I have found a Prince Charming. :)
You Are Cinderella!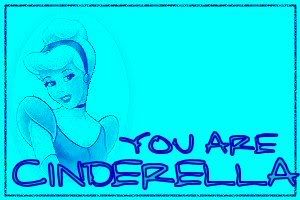 Dignified and hard working. With a gentle and soft-spoken manner you have something many people don't. Patience. Even through the moments of heartbreak you're still able to hold onto all of your hopes and dreams. Bide your time; your dream will come true.
Which Disney Princess Are You?